Organise
Small business software for Mac OSX

Keep track of your orders, stock, customers, 'to do' list
Basic invoice and accounting
Export items to Google Product Search (new name Google Shopping and no longer free)
Simple and uncomplicated, self-contained and standalone
Has a database style input or an EPOS / Checkout style interface
Ideal for mail-order, retail and time-and-materials businesses
Useful reports such as Invoices sent but not paid, Stocktake, Top sellers, New vs Returning customers
Pro version free 30-day trial
If you have a mac and a small business then this small but powerful database application will keep track of your orders, stock, customer details, 'to do' list and has some basic invoice and accounting functionality. My ethos is to keep things as uncomplicated and quick to use as possible, leaving you free to run your business with all information at your fingertips.
Organise is small, self-contained and standalone. It doesn't require you to buy, licence or install any other database application.
Watch a short video made by MacUpdate
New: v6.2 Pro comes with new free app Report Builder. Since v6.1 has the ability to show you graphs, with two built-in reports as examples - Weekly sales and Monthly sales.
System requirements
Mac OSX 10.4 (Tiger) or higher, Intel or ppc. 10.8 (Mountain Lion) supported. The app contains my electronic signature so that Mountain Lion's Gatekeeper will happily run it (with settings set to 'Mac App Store and identified developers' or lower).
---
Screenshots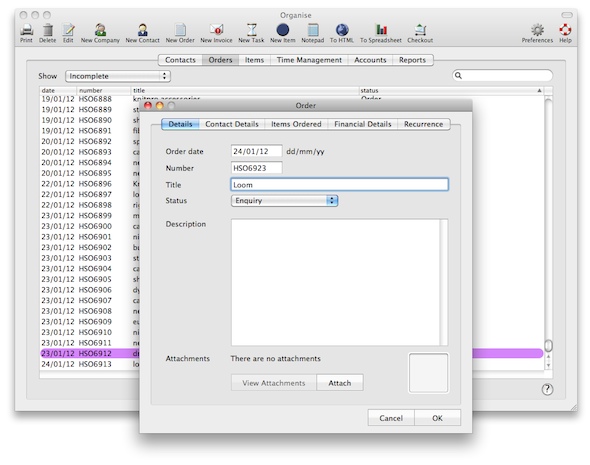 This screenshot shows the new graphing functionality, available in v6.1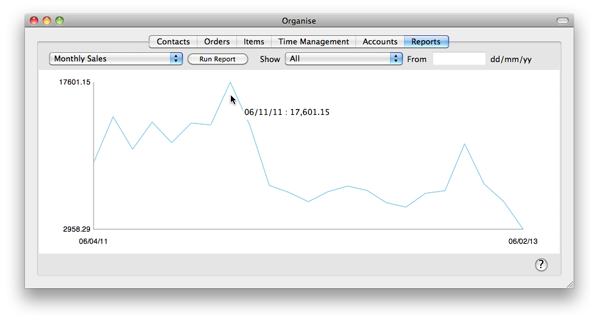 This is an infographic showing how everything links together. (click to enlarge)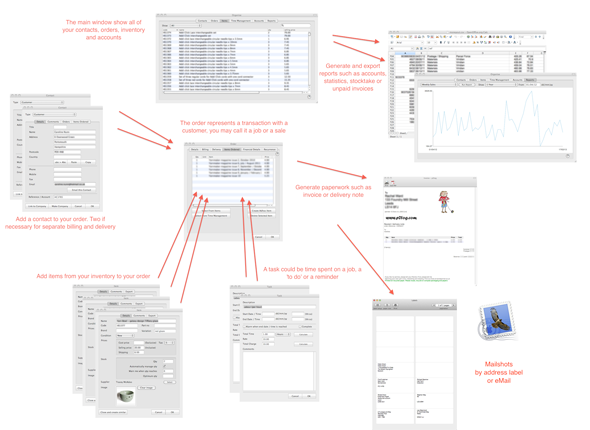 This screenshot shows the Checkout interface being used with a touch-screen and the Keystrokes on-screen keyboard.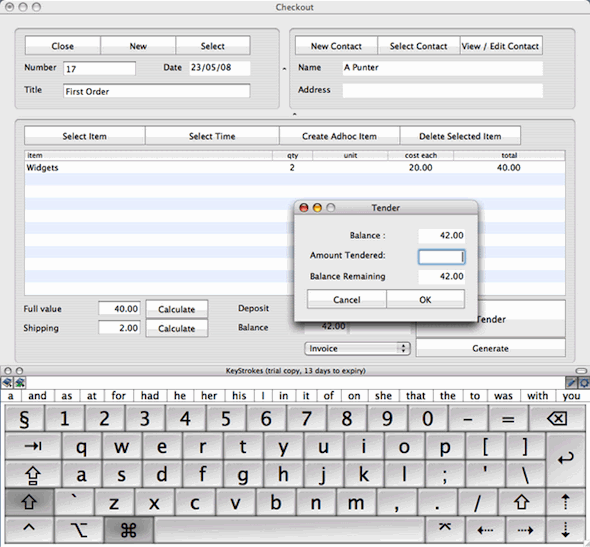 ---
Download custom reports
reports are 'plugged in' to Organise Pro's report manager. You can create them yourself using this reference guide or the new Organise Report Builder or I can create them for you. Some potentially useful ones are shared below.
You may not be able to click the link to download it, you may need to right-click (control-click) and choose 'save linked file as' or similar.
Save the file in ~Library/Application Support/Organise/Reports and re-start Organise.
(Note that as from 10.7 (Lion) OSX hides your Library folder from you, there are some tricks to get into it, the easiest may be Finder>Go>Go to folder... and type '~/Library')
Are you interested in sharing a custom report? Contact me
---
Support
---
Version History
version 6.3 Pro released April 2013
- - Improves database switching in the Prefs > Advanced tab. Encourages creating of databases within the application's support folder. This is in preparation for release on the App Store (sandboxing dictates data is stored in app's own container). And also in preparation for iCloud storage of database / sharing across devices. This doesn't prevent creation or use of databases elsewhere, which is still currently necessary if you want to see the same database from separate machines
- Adds new internal field to Item Purchased, order:type. This allows reports to differentiate between Items Purchased appearing on Orders and those appearing on Purchase Orders. Also allows custom reports to select Items appearing on Purchase Orders
- Tweaks two built-in reports (Current Items Purchased and Top Sellers) to make use of the new field above and thus correct a problem. Existing users will have to delete these two reports to prompt Organise to save an updated version. If you have customised these or have custom reports which use the itemspurchased table, please contact support for details of how to correct these
- Main views (Contacts, Orders, Items, Time management) allow multiple selection for deletion of any number of items at once
- Adds a limited undo buffer to those views - the last deletion can be undone, but the buffer is killed by adding a new item because difficult to nicely handle IDs and sequential numbers in that situation
- Adds undo / redo to some of the bigger text fields (comments / description etc)
- Adds some fields for use on Templates - <currencysymbol> , <currencycode> and <taxrate> (taxrate prints the standard (code S) rate). Built-in templates have been updated to include these but existing users will have to add these fields to their installed and custom templates if they want to use them
- Note change to Order's taxrate field. It used to store the taxrate as it was when that Order was created. This is no longer stored on the Order because Organise now allows more than one tax rate. But can be used as a special field on Templates and will pull the standard (code S) rate
- Fixes bug affecting generating of invoices from checkout interface
- smartened up application icon, retina-screen compatible
version 6.2.2 Pro released April 2013
- fixes bug causing changes not to appear if a contact is edited from within an order
- correctly resets the next sequential id after creation of an order is cancelled, or if the last one created is deleted
- fixes bug which sometimes caused a hang after a Purchase order was marked 'goods received' and then 'OK'd
version 6.2.1 Pro released March 2013
- fixes bug causing failure to open app if 'Money out' table was sorted by reference number when last closed.
- fixes bug causing some numbers to be rounded up when running on Mountain Lion 10.8
- works around Apple's 10.8 bug preventing localising of numbers (decimal and thousand separators) being picked up from system preferences
version 6.2 Pro released March 2013
- Adds ability for Report builder's 'Run' button to open Organise and run the report
- Report Builder (new free app) included in Organise Pro dmg
- Fixes problem with date selection in Accounts/Money in
- makes report manager a bit more robust and tolerant to unexpected items in the data or invalid user selections (eg selecting a period of a week for a 'by month' graph)
version 6.1 Pro released February 2013
- Adds ability for Report Manager to generate graphs
- Adds two built-in reports - Weekly sales and Monthly sales, both with date selection
- When exported to csv, txt or html, these graph reports will export their data, ie two columns, date and data.
- Adds 'tip of the day' which appears on startup. Can be switched on or off in prefs as well as the tip window
- Adds all Order statuses to the filter button, so as to easily show a list of all Orders with a particular status
version 6 Pro released January 2013 (4 weeks as release candidate)
- improves handling of sales tax. Previous version allowed you to set a single rate (code S = standard) and had Z (zero) and E (exempt) hard-coded in. Now if you choose to use the sales tax functionality, four codes are set for you in line with these UK codes (plus L for lower 5% rate). If you're in another country or if the rules change, these can be edited or new ones added.
- improves handling of decimal numbers in line with user's location and system preferences. Previously Organise was unusable in countries that don't use a point '.' as a decimal separator
- Allows reports to be printed using a customisable template (which work the same way as existing templates). As an example, a new report with a template is built in - "Outstanding balance for open customer" which generates a statement addressed to that customer showing all orders which are unpaid, with a total.
- contact fields within an Order are selectable, so that you can copy information directly from that tab.
- fixes tax code and variation of Items sold not being copied when an order is copied (eg during a recurrence or one-off copy)
- fixes company contact phone extension not being saved properly
- company contact phone extension field relabeled 'Extension / direct'
- fixes 'visit website' button of company
Full version history for Organise (The full history is also in the release notes included in the app's dmg file)