Organise
Lets you get on with what you're good at.
Keep track of your orders, stock, customers, 'to do' list
Basic invoice and accounting
Ideal for mail-order, retail and time-and-materials businesses
Simple and uncomplicated, self-contained and standalone
Has a database style input or an EPOS / Checkout style interface
Useful reports included, eg Invoices sent but not paid, Stocktake, Top sellers, New vs Returning customers
Retina Screen compatible
Try before you buy - 30 days free and unrestricted
If you have a mac and a small business then this small but powerful database application will keep track of your orders, stock, customer details, 'to do' list and has some basic invoice and accounting functionality. My ethos is to keep things as uncomplicated and quick to use as possible, leaving you free to run your business with all information at your fingertips.
Organise is small, self-contained and standalone. It doesn't require you to buy, licence or install any other database application.
Watch a short video made by MacUpdate
New: Organise Pro comes with new free app Report Builder. Since v6.1 has the ability to show you graphs, with two built-in reports as examples - Weekly sales and Monthly sales.
---
Licence
34.95 Pounds
|
End user licence agreement
The web download Organise allows a 30-day free trial. Please try it out.
---
System requirements
From version 7.2, Mac OSX 10.4 (Tiger) no longer supported. Minimum now 10.5 (Leopard) or higher, Intel or ppc. 10.10 (Yosemite) tested and supported. The app contains my electronic signature so that Mountain Lion's Gatekeeper will happily run it (with settings set to the default 'Mac App Store and identified developers' or lower).
10.4 users should use Organise version 7.1 Pro
---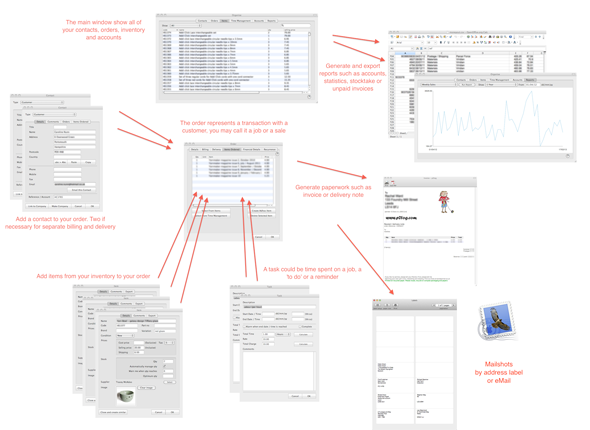 This is an infographic showing how everything links together. (click to enlarge)
---
Download custom reports
reports are 'plugged in' to Organise Pro's report manager. You can create them yourself using this reference guide or the new Organise Report Builder or I can create them for you. Some potentially useful ones are shared below.
You may not be able to click the link to download it, you may need to right-click (control-click) and choose 'save linked file as' or similar.
Save the file in ~Library/Application Support/Organise/Reports and re-start Organise.
(Note that as from 10.7 (Lion) OSX hides your Library folder from you, there are some tricks to get into it, the easiest may be Finder>Go>Go and press your alt key to reveal 'Library')
Are you interested in sharing a custom report? Contact me
---
Support
---
Version History
version 7.4.5 Pro released Oct 2014
Small fixes:
Fixes bug where new item quantity may not be saved properly if Order is opened, qty of an item ordered is altered, order is closed and app is quit.
version 7.4.4 Pro released May 2014
Small fixes:
Fixes minor problem with collation in report manager
version 7.4.3 Pro released February 2014
Small fix:
Fixes bug causing small inaccuracies with total due and balance remaining on an order if the user's country uses a comma as a decimal separator.
version 7.4.2 Pro released January 2014
fixes and improvements:
tax code column in items purchased table within an order / on invoice is now correctly hidden if sales tax is switched off in Preferences
Headings of items purchased table within an order / on invoice are updated immediately when Preferences window is OK'd rather than requiring restart.
version 7.4.1 Pro released January 2014
Important fix
Fixes bug which could cause the application to hang on startup if an order has been repeated on schedule
version 7.4 Pro released December 2013
fixes and improvements:
When switching or creating database, the change is immediate, no longer necessary to quit & restart
Adds customisation / localisation of 'items purchased' table header fields. Custom names carry over to the invoice and other templates, allowing complete localisation of generated paperwork.
Removes gap in address on invoice and other templates if there are blank fields in the customer's address
Adds invoice date to standard invoice template (existing users will have to add manually by editing template)
Fixes preferred terms for Order, Item not appearing on toolbar buttons or editing windows
version 7.3 Pro released November 2013
fixes and improvements:
Adds choice of item prices being inclusive or exclusive of sales tax. For existing users using sales tax, Organise will continue to work the same way as before with the option of switching. For new users, it will default to exclusive and tax will be calculated accordingly on the Order
Correction to Shipping where sales tax is being used. Tax will be calculated on the shipping at the rate set in Preferences (default is standard rate)
Some improvements and fixes to Goals and Objectives. (Goals and Objectives have been available in the previous version but undocumented.)
Adds ability for user to customise or add import mappings based on Paypal or Squarespace imports
Adds automatic update check:
New dialog gives information about new versions when available
Single click to download
version 7.2.2 Pro released September 2013
Adds import from Squarespace and Paypal - creates Orders with Contacts, Payments, Items, Items purchased. File > Import > Special >
Adds field (not editable) for transaction ID from squarespace or paypal import. Allowing the reference number to be retained and also to prevent the same order being imported if another import is attempted with the same data or new data that includes the same transaction.
version 7.2.1 Pro released September 2013
Fixes problem caused by trying to generate monthly sales graph with less than a month's data
version 7.2 Pro September 2013
Minimum system requirements OSX 10.5. 10.4 users should not upgrade to v7.2, for compatibility with newer systems it uses features not available in 10.4
Fixes bug causing remaining balance in an Order or in Checkout to be calculated incorrectly if any payment is over 1,000
Main window's Toolbar redesigned in line with Apple's human interface guidelines and for retina screen compatibility
Adds toolbar controls (show / hide / customise) to main View menu

Retina screen compatible
OSX Mavericks tested and supported
version 7.1.1 Pro August 2013
Fixes problem on startup for some new users
version 7.1 Pro August 2013
Improvements for multi-database users:

- allows a display name for the database as well as filename
- allows renaming of databases (changes the display name)
- shows the display name in the database list rather than filename
- displays the database name in the main window title (unless using the default database and no-one's changed its display name)
- allows for a different currency and some other codes for each database (preferences such as currency, currency code, code prefixes are stored in the database rather than user prefs)

Items can be categorised:

- adds 'category' field to Item, allowing more than one category
- allows adding or removing multiple items to a category via a context menu in the Items view
- adds all known categories to the Item filter button
- adds pseudo-field item:category for reports to use, so reports such as Top sellers can select by category

Report manager improvements:

- report manager now understands 'contains' when selecting (eg "category contains 'magazine'" ) (symbol is '()' if not using Report Builder app)
- the separate Report Builder application enhanced to include the new fields and this new option (v2.1)

Bug fixes:

Fixes Contact names sorting by first name rather than surname
version 7.0.3 Pro (no longer Release Candidate) June 2013
- Some small fixes since version 7.
version 7 Pro (as Release Candidate) May 2013
- Removes Deposit / Balance and replaces with multiple payments. Allows for multiple payments, and part-payments made by different methods.
- Existing deposit (if present) and balance fields are converted when version 6.4 is first run. The old fields are kept in the database. If user returns to older version, these fields will still be present, but any orders created using the new version won't have those fields.
- Adds field 'balanceremaining' which is a calculation of what's owed taking into account the new-style payments.
- Adds field 'totaldue' which is a total of everything with tax and shipping before any payments have been made. Is not reduced by any payments that have been made. For that use balanceremaining
- Exsting stationery (invoices etc) will still work as far as possible. The new version won't replace or update them in case you've customised them, but will try to update them. If this isn't successful, or you wish to add the new fields to your templates, see Organise's support pages.
- On existing stationery, the old balance field will be populated with the new 'balanceremaining' field. The deposit field will no longer be populated for new Orders because it doesn't exist on the record. Suggest replacing the fields on your templates with the new tempalte field which will insert the list of payments, dates and payment methods.
- Adds 'Import Report' to File menu ready for App store (sandboxed) version which doesn't allow communication between Organise and the Report Builder app.
Full version history for Organise (The full history is also in the release notes included in the app's dmg file)