Integrity
Easily find your website's broken links
Faster than ever - v4 handles larger sites quickly and without slowing down
Scans your site checking for broken links - fast and accurate
Check images as well as all internal and external links
See problems at-a-glance highlighted in colour. Double-click for more detailed information
In short, improve your website's quality and search engine ranking
If you've maintained a website for any length of time, you'll know that links very quickly become broken, because we move, delete or change our own pages, and other people that we link to do the same.
A broken link on your site is a dead end for your visitors and will also be bad news for your search engine optimisation (SEO).
---
Integrity is a link checker, no more, no less, no frills - and free (donationware). If you'd like:
Advanced options such as nofollow, authentication, custom header fields
XML sitemap generation and upload
Page load speed test, SEO checks, HTML Validation
Manage multiple sites and settings
Full report exportable as html or pdf
All of this is available in Scrutiny
Download now

Download Integrity 4.1 (free)
App Store


Get Integrity 4.1 from App Store (£1.49)
Download version requires Mac OSX 10.4 or higher, Intel or ppc. 10.8 (Mountain Lion) supported. Free.
App Store version requires Mac OSX 10.5 or higher, Intel 64-bit processor. £1.49
The web download of Integrity is donationware, which means that it's available to personal users free of charge with no restrictions. I'm very grateful for donations and if you choose to donate, it will encourage further development of this and other OSX software.
If you are using Integrity as part of your business, please buy a licence for the more powerful Scrutiny, or make an equivalent donation towards Scrutiny. End user licence agreement
---
Screenshots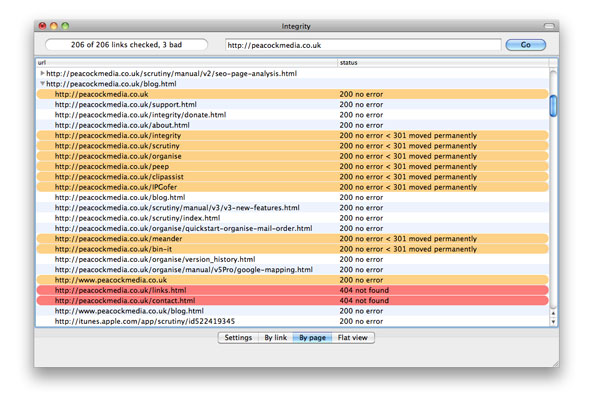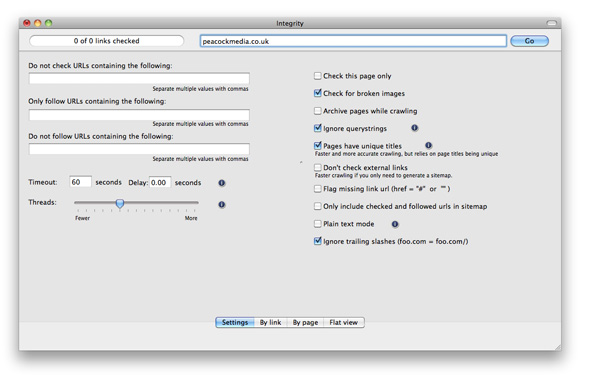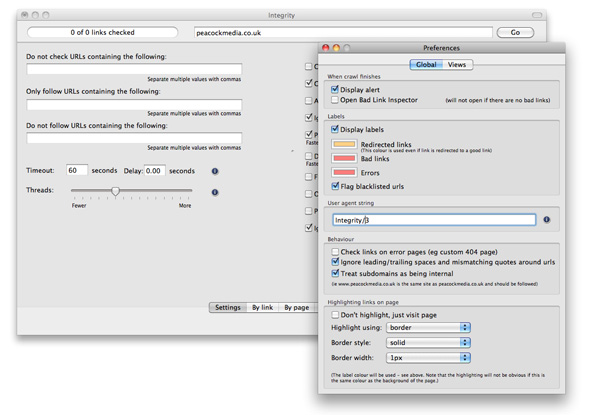 ---
Installation
Open the .dmg file and find an installer inside. To keep it in your dock, right-click or click-and-hold on its dock icon and choose 'Keep in dock'.
---
PC Version?
If you're of the Windows persuasion, use Xenu's Link Sleuth. The developer has made it clear that he's not interested in producing a specific Mac version. I've no connection with Tilman Hausherr (though he seems like a great guy), and this is no more than a personal recommendation to use the Link Sleuth if you're a pc user.
---
Bugs and enhancements
If you have a problem or suggestion, first see whether the answer is on the FAQs page. You can also see my bug and enhancement list on Scrutiny and Integrity's bug and enhancement list. If your question isn't answered, please see Scrutiny's support page for contact details.
---
Version History
v4.1.1 Released April 13
Adds 'bad links only' checkbox (was possible to toggle bad links / all links using menu or toolbar button. This new checkbox makes the option more obvious if toolbar not showing and for similarity to Scrutiny)
Adds filter drop-down list (All, Internal, External, Images) and search box above all views
If flagging blacklisted urls, then the highlight colour used is orange or the warning colour (was red or bad link colour). Not an error so inappropriate to use an error colour.
v4.0.4 Released February 13
Fixes problems creating black/whitelist rules on first run with no settings saved
Correctly sets window to edited (dirty spot in red button) when black/whitelist rules are changed, triggering prompt to save when switching settings
Version 4.0.3
Small fixes, full release February 2013
Version 4
released as Release Candidate January 2013
Major improvements to the data storage and engine meaning that even small sites will crawl more quickly and large sites will crawl very much more quickly without slowing down or losing responsiveness
When stop button is pressed, all open threads are abandoned, and then recreated if 'continue' is pressed. Gives a much better user experience
Routines for 'by page' view re-written to avoid apparent hanging at the end of the crawl of a big site
Adds new settings to Preferences, allows setting of some limits - default to 200,000 links. Offering the option of limiting the crawl of a large site (maybe better achieved by using blacklist / whitelist rules) but also a safety valve to prevent crashing due to running out of resources when crawling very large sites
If starting crawl within a directory, crawl is limited to that directory, ie crawl will go down a directory structure but not up. This matches users' expectations. Previously, crawl extended to all pages in the same domain
Blacklist and whitelist boxes replaced by a more user-friendly table of rules (existing data will be presented in the new way)
Moves 'check links on custom error pages' to settings rather than global preferences
Increases maximum number of threads from 30 to 40 (will improve crawling for some sites) with the default now 12 rather than 7. Extreme left (labelled 'fewer') is still a single thread.

Full version history for Integrity (The full history is also in the release notes included in the app's dmg file)