ClipAssist
Easy access to standard clips of text

You don't want to make your customer feel that they're reading a standard letter but there are snippets of text that you have to type regularly; your address, your vat number, directions to your premises, answers to those frequently-asked questions...
Do you type them every time? Do you search for a document or old email and copy and paste from there?
ClipAssist is not a clipboard history app, it will sit in the background and give you quick access to those clips via hotkeys in unstyled text so that you can paste anywhere with the minimum fuss.
Start up ClipAssist, press the [+] button, give it a name and paste in your first clip.
Go to preferences to configure hotkeys. Assign one of the F keys to call ClipAssist to the front for quick access to any of your clips.
Download now
Download ClipAssist v3 for Mac
Screenshots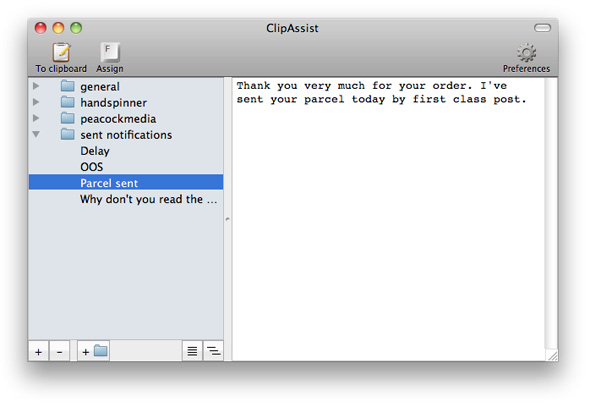 System Requirements
Mac OSX 10.4 or higher, 10.8 (Mountain Lion) supported
10.4 Users Download here (same app but the installer package used in the code-signed build needs 10.5 or higher)
---
What should I do with the downloaded file?
Open the .dmg file and find the application inside. If you want to keep using ClipAssist, drag and drop it into your Applications folder. To keep it in your dock, right-click or click-and-hold on its dock icon and choose 'Keep in dock'. To have it available all the time, do the same and choose 'Open at login'
---
Contributors
Developer: Shiela Dixon

---
Version History
Version 3.1
released January 2013
Adds F-key button to toolbar for assigning F keys (goes to the appropriate tab of preferences)
Adds optional visual feedback when using F keys (on by default) Flashes a head-up-display window to indicate clip is successfully copied. Fades out quickly and doesn't interfere with the event queue
Note that the visual feedback is only available when running on systems 10.5 onwards
Updates toolbar icons
Fixes bug causing crash if Prefs window opened multiple times
Code signed for OSX10.8 Gatekeeper
Version 3.0.2
released August 2012
Fixes problem of folder sometimes appearing to be duplicated when renamed
Shows main window (if has been closed) when certain actions are performed, dock icon is clicked or hotkey for bringing ClipAssist to front is used
Removes some not needed items from menu bar
New folder view now correctly asks about saving changes if another clip is selected

Version 3.0
released August 2012
Adds 'folder view' which allows you manage lots of clips - store your clips in collapsible folders. Or switch back at any time to the single alphabetical list
The single list and the folder view are both sorted alphabetically
new application icon, containing hi-res images for retina display

Version 2.1
released April 2012
Adds OSX 10.4 compatibility and support
Small fixes
- Fixes problem of hotkey settings not being saved under certain circumstances
- Adds text to preferences pane emphasising that the hotkeys can only perform a copy to the clipboard, not a paste into another application
Version 2
released February 2012
Adds hotkey functionality; clips can be copied to clipboard from within another application using keys F1 - F6
Adds option to auto save changes without asking
Adds option to automatically copy to clipboard when selecting, or with double-click
Adds preferences window
Adds Preferences button and customisation to toolbar
Small fixes and improvements
Version 1
released January 2011