Bin-it
Adds a customisable trash can to your desktop

Adds a customisable floating trashcan to your desktop pre-OSX style, which gets visibly fuller with the size of the trash, with several designs, loads of options and features including a very secure shred.
Desktop level or keep on top
Variable size and transparency
Trash-level indication with optional text and/or badge showing number of items / trash size
A number of built-in bin designs, add your own artwork and sounds to create custom themes
Option to show dock icon and menu bar
Double-click to open trash, optional single-click
Ejects discs and devices that are dragged
Option to shred trash with 7-pass overwrite (US DoD compliant)
Mac OSX Download

Download Bin-it v1.7 (15 days free)
Screenshots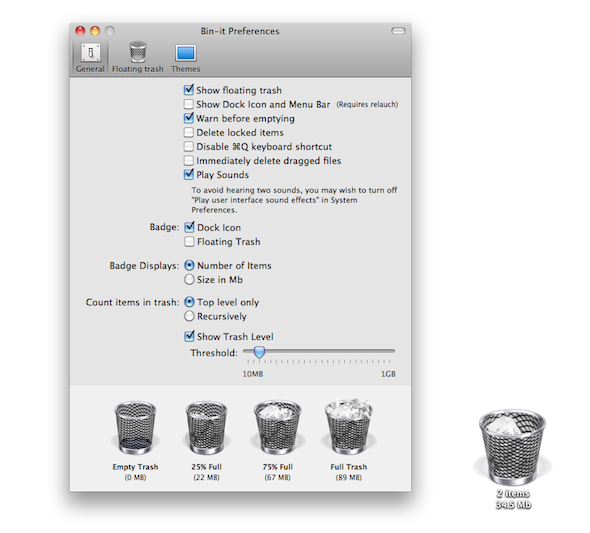 A line-up of the built-in themes: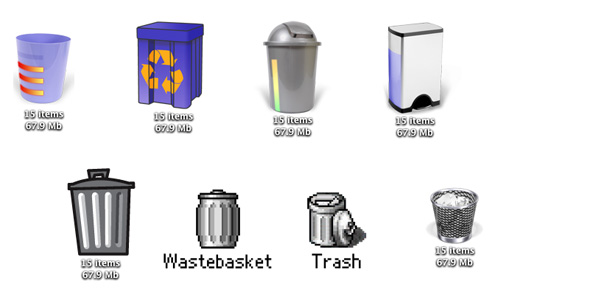 ---
What should I do with the downloaded file?
Open the .dmg file and find the application inside. Drag and drop it into your Applications folder to install. If you'd like it running every time you start up, either add it in System Prefs>Accounts>Login Items, or (with the dock icon showing) right-click or control-click the dock icon and choose Options>Open at Login
---
System Requirements
Mac OSX 10.4 or higher. (1.5.3 is available for download below which will run on 10.3)
10.4 Users Download here (same app but the installer package used in the code-signed build needs 10.5 or higher)
---
Download custom themes
See screenshots for built-in themes.
Theme
Designed by
Preview
Download
Are you interested in providing a custom theme? Contact me
---
Support
---
Version History
Version 1.7.1
released April 2013
Small fix, disc list in eject menus not always being updated properly.
Version 1.7
released January 2013
Adds Eject menu (which lists ejectable devices currently mounted) to menu bar and dock icon (if showing) and floating trash context menu.
Version 1.6
released October 2012
Built and supported for 10.4 (Tiger) to 10.8 (Mountain Lion)
(10.3 users can still download 1.5.3, which will run on 10.3, but I can no longer support)
Fixes radio buttons in prefs ('badge displays' and 'count items in trash') which weren't being retained after quit and re-start
Fixes text colour, now correctly white by default

Bin-it was released in February 2006 and developed up until August 2008. Re-released as v1.6 in 2012. For pre-1.6 development, please see the release notes in the dmg file.